Windows
Window Replacement
Affordable Window Installation
Quality Service From Local Window Experts
Energy-Efficient Windows
---
Find WINDOW PROS in my area
Did You Know?
Window Replacement
Replacement windows can enhance your daily comfort, elevate your home's style, and increase your property value. Known for their high return on investment, you can expect to add as much as 70% of your windows installation costs to your home's value. Not to mention that they will improve your energy efficiency and help reduce monthly utility bills.
ROI on Energy Saver Windows
How much does a Window Replacement cost?
The average cost of a window replacement is $300 per window. However, the exact price varies from $200 to $2,000 depending on the type and size of the windows, the materials used, the location of the property, and labor costs.
For the best value, make sure you get quotes from several reputable window installation companies. Remodeling.com make getting quotes easy. We partner with local windows installers, allowing you to get free window quotes from up to three companies at the same time.
Compare Home Window Types
Many homeowners prefer to do their own research before diving into a window replacement or repair project. It can be helpful to understand standard window sizes, how to measure windows, and how to approach a glass repair before contacting a contractor.
‍
Explore the different window types to find the right inspiration for your space.
It's important to pick the right window style for your window replacement that fits your budget and home perfectly.
Explore Popular Window Styles
Single Hung Windows
Double Hung Windows
Casement Windows
Awning Windows
Window Styles
Classic Charm or Modern Edge?
Windows type selection can change the whole aesthetic of a home
Double-Hung Windows
One of the most popular styles, double-hung windows offer a traditional look and affordable durability. The upper and lower sashes open, allowing for better air circulation and easier cleaning.
Single-Hung Windows
Another classic option, single-hung windows offer a similar look and durability for a slightly more competitive price. However, only the lower sash opens.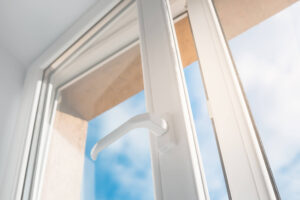 Casement Windows
Casement windows make a statement in any living area and come in several sizes and styles. Fixed or non-opening casements look great in living and dining rooms, while crank-open and hinged models offer great ventilation in hard-to-reach places.
Awning Windows
Awning windows feature a hinge on the top and open from the bottom. They are a great fit for hard-to-reach spaces like above counters, doors, and especially sinks.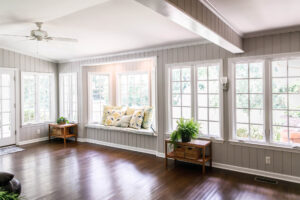 Bay or Bow Windows
Since they curve outside your home, bay or bow windows make a stylish statement. Bay windows have one large picture window in the center with two smaller windows on the side, while bow windows have four or more equally sized segments.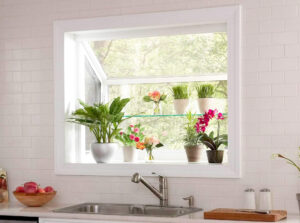 Garden Windows
Garden windows extend outside of your home to create a miniature greenhouse. Often used for pants or herbs in the kitchen, they have a flat bottom and straight sides with an angular top. You can also add a glass shelf to increase the space for plants.
Picture Windows
Picture windows are large, fixed-frame windows that do not open. Since they offer an unobstructed view of the outdoors, they look great in almost any living area.
Sliding Windows
Sliding windows are becoming very popular for their modern look and larger size. Also called gliding windows, they open by sliding side to side. They offer an advantage over traditional single- and double-hung windows because they can support larger glass panels.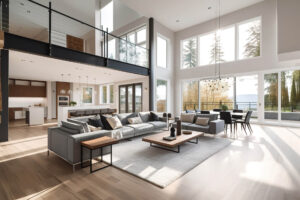 Specialty Windows
Specialty windows come in a wide variety of shapes, sizes, and styles. Although some do open, most are fixed-frame windows. They are often used to increase curb appeal or create a focal point in the room.
PRO
match
Find a local pro for your project.