Cabinets
Bathroom and Kitchen Cabinets
---
Affordable Cabinet Replacement
Kitchen and Bathroom Cabinet Installation
Cost-Effective Cabinet Refacing
Find CABINET PROS in my area
Did You Know?
Cabinets transform your kitchen or bathroom
.
Whether you are looking for modern, sleek cabinets or want a cozy, rustic ambiance, increasing the storage space and organization of your kitchen or bathroom with stunning new cabinets is easy. Choose from a variety of cabinet styles, sizes, and features to create your dream bath or kitchen storage space. Our expert remodeling professionals make upgrading your bathroom or kitchen easy with high-quality cabinet remodeling services.
How Much Do New Cabinets Cost?
The national average cost of kitchen cabinets is $6,750. However, the total cost ranges from $2,250 to $11,750. Bathroom cabinets cost $650 on average, with prices varying from $200 to several thousand dollars.
The exact price of new cabinets depends on several factors. This includes the size of your kitchen or bathroom, the style and number of cabinets, other features, and local labor costs.
An alternative to new cabinets, cabinet refacing uses the existing cabinet boxes. Kitchen cabinet refacing averages $7,750 but can range from $4,750 to $11,000. Bathroom cabinet refacing is usually less expensive, between $1,250 and $3,500.

Find a local pro for your project
Glass Front
Trending Design:
Partial or full glass doors allow homeowners to display their dishes and glassware
Modern Convenience
Deep Drawers and Under Cabinet Lighting

Find a local pro for your project
Modern and Sleek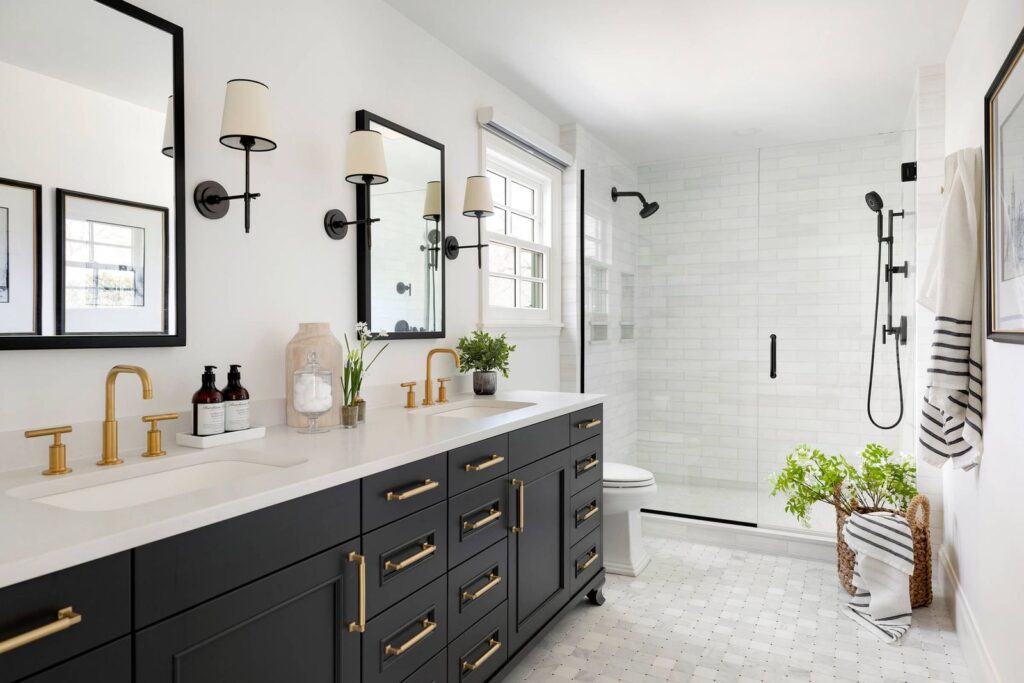 Choosing the right option
Kitchen and Bathroom Cabinet Options
.
When it comes to remodeling your bathroom and kitchen cabinets, there are several main options to consider. Each offers its own set of benefits and design possibilities.
Choosing the right option for your kitchen and bathroom cabinet remodeling project depends on your budget, design preferences, and the condition of your existing cabinets.
Here are the basics of the most common cabinet solutions. If you have questions, our local cabinet pros can explain them in more detail and help you make the best decision for your home and your budget.
Cabinet Replacement
Cabinet replacement involves completely removing your existing base cabinets and installing new ones. Although they are available in many styles, materials, and finishes, these are typically stock or off-the-shelf cabinets.
New cabinet installation allows you to customize the cabinet options in your kitchen or bathroom. It is often the most effective choice if your current cabinets are in poor condition, outdated, or if you want to reconfigure the storage and layout of the space.
It also allows you to add features like adjustable shelves, corner cabinets with extra storage space, or other modern cabinet features.
While you can reinstall your existing countertops, it is common to upgrade those at the same time. Obviously, this drives up the overall remodeling cost.
Cabinet Refacing
Cabinet refacing involves removing the existing cabinet doors, drawers, and hardware while keeping the current cabinet framework.
The cabinet surfaces are covered with a veneer or laminate that matches the replacement doors and drawer fronts.
Since it reuses your existing base cabinets, this option is an excellent choice if you want to update the style without the expense of a complete replacement.
It also allows you to upgrade your cabinets without the added cost of replacing your countertops or other features. That said, you can always install new counters if you want.
Custom Cabinetry
Custom cabinetry provides the highest level of personalization. Skilled craftsmen create cabinets tailored to meet your size, style, material, and finish requirements.
This option is perfect if you have a unique vision for your kitchen or bathroom and want cabinets designed specifically for your space.
Often the most expensive option, it allows you to customize your cabinet storage space.
PRO
match
Find a local pro for your project.