Over 110,000 Homeowners Served.​
Benefits of Remodeling.com
Roofing Replacement Near You
If it's time for a new roof, we offer many options to accent and protect your home without breaking your budget. From standard asphalt shingles to metal, tile, slate, and more, let our expert design consultations will help you pick the right option for your needs. Plus, our factory-trained and certified installers will replace your roof in about one day.
Schedule your risk-free quote on an affordable new roof now.
The most common roofing material in America, asphalt shingles offer durable, long-lasting protection at a moderate price. These shingles feature a fiberglass base coated with asphalt granules that will last for 20 to 30 years. Premium 50-year shingles are also available.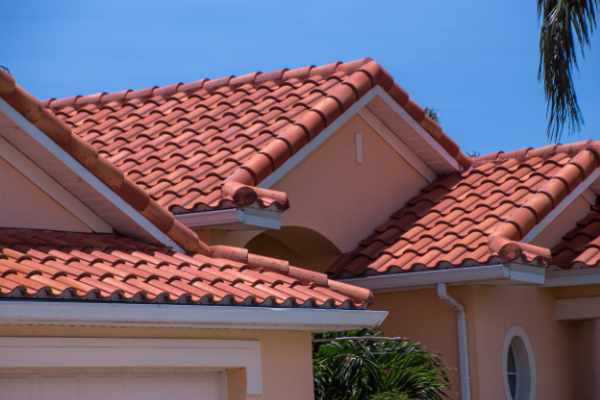 Known for their distinctive reddish-orange color, clay tiles are most common in warmer climates. Also known as ceramic tiles, they stand up to high temperatures and the salty air of coastal regions. The tiles create an interlocking weave to block out moisture.
Very similar to clay tiles, concrete tiles are made from concrete and come in many different colors. Heavier than clay, it is a good option for high wind areas. Concrete tiles also come in many shapes, including traditional rolled roofing tiles and low-profile shingles.
Metal shingles are made from stamped steel or aluminum and look similar to traditional asphalt shingles. However, they offer superior durability and come in many colors and finishes to accent any home. Metal shingles will last between 30 and 50 years on average.
Also called synthetic slate, rubber slate shingles are an engineered product that looks almost indistinguishable from slate once installed. It is a lightweight alternative to slate, offering many of the same benefits.
A slate roof is extremely luxurious and offers a classic look to almost any home. Made of sheets of stone, it is long-lasting, exceptionally durable, and completely fireproof. Most slate roods will last 100 years or more.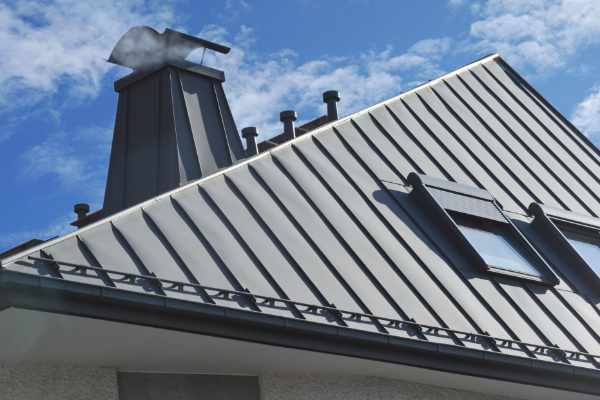 Standing Seam Metal Roofing
The most common style of metal roofing, standing seam metal panels interlock together to block rain and snow. Standing seam metal roofs are becoming increasingly popular because they last 30 to 50 years, stand up to heavy snow, and are completely fireproof.
Also called stone-coated metal, a stone-coated steel roof is made from steel sheets coated in stone granules. This offers the same protections as a metal roof, but the stone adds additional energy efficiency and noise reduction. The stone also comes in many colors, giving you more roofing options than metal alone.
Another luxury roofing material, wood roofing offers a classic look that is common throughout New England. Each shingle is a specially cut wood wedge. Once interweaved on your roof, they create a unique and gorgeous pattern. However, they do require more upkeep than other roofing options.
Industry-Leading Warranty
Our roofs include an industry-leading warranty to guarantee they last.
Nearly Maintenance Free
Your roof will protect you with only minimal maintenance.
Superior Strength & Durability
We only use high-quality materials for excellent strength and durability.
How Much Does a New Roof Cost?
Depending on the size of your roof, the roofing material, and your location, the cost of a new roof will range from $5,500 to $12,500. On average, a basic asphalt shingle roof will cost about $8,000. The total cost for a replacement roof depends on several factors.
Average Cost of Roof Replacement per Square Foot
In addition to the price per square foot outlined above, roofing costs will include roofing framing and decking, underlayment, and installation.
Our No-Hassle Roof Replacement Process